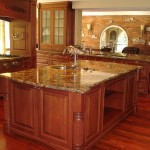 Granite
For a number of years, granite has been one of the most requested surface products on the market. Desired for its uniqueness, beauty and durability it is a natural option for countertops that will never go out of style.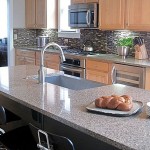 Quartz
Quartz has become a major contender for countertop applications. The engineered material is created through a manufacturing process that mixes approximately 93 percent ground natural quartz with 7 percent polymer resins, resulting in a very hard, scratch and heat resistant material that looks rich and beautiful. Pricing is similar to granite although quartz is more durable and offers tighter seems with no maintenance. Quartz features make it a highly desired material for both kitchens and bathrooms.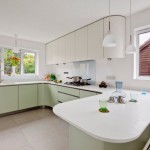 Acrylic Solid Surfaces
Corian is an example of a solid surface countertop material that has limitless design possibilities. Advantages over other solid material are its ability to be virtually seamless, even in the transition from countertop to sink bowl. They are easy to clean and moisture resistant but can scratch and be scorched if a hot object is set upon them. Corian is available in many color/pattern options.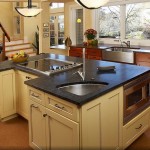 Soapstone
Soapstone is a matte, smooth natural stone that is soft grey to charcoal in color. It is not affected by acids, so it will not stain and is also heat resistant. There are no special required cleaners and mineral oil can be used to enhance the stone's natural beauty. It is a timeless selection for a countertop material.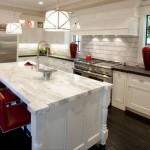 Marble
Marble is a traditionally elegant solid natural material. Being softer than granite it can stain and scratch creating its own patina, which some people admire, giving it a warm look. Marble is used more commonly in bathroom applications where scratching and staining are not as much of a factor.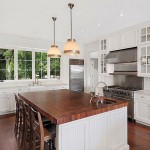 Wood
Wood or butcherblock countertops are growing in popularity due to their durability and style. For example, using a wood top on a kitchen island while having a contrasting material for perimeter counters is a popular way to add visual interest and character as well as function to the kitchen. Maintenance is required with periodic oiling to prevent the wood from drying out. Butcherblock tops are the most commonly used wood countertop and can come in a variety of styles and woods, from bamboo, cherry, zebra wood and more.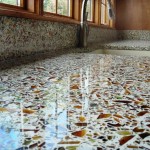 Recycled Glass
Recycled glass countertops are made of approximately 75% recycled materials such as mirror, glass, porcelain, earthenware and vitrified ash. It is unique and beautiful, durable, and stain and scratch resistant. It is a perfect choice for those who are conscience about our environment.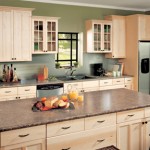 Laminate Tops
Laminate countertops come in a variety of textures, sheens and finishes and vary in price and quality. Laminate can be the most economical option in countertop selections if you are on a restricted budget. Throughout the years, there have been many advances in color, pattern and texture selection and quality. Laminate is very durable, although it can scratch or melt if a hot pot or pan is set directly on the surface. Options range from a matte finish to high gloss, and granite or stone look.
We carry Formica, Pionite, Wilsonart, Nevamar, Cambria, LG Viatera, Silestone, HanStone, Caesarstone, Radianz, Zodiac, Eco by Consentino, and Vetrazzo recycled glass surface.