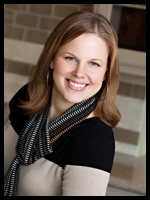 April Lamovec – April's interest in design began long before she attended the University of Wisconsin Stevens Point. But it was at that time she recognized her passion for design could evolve into a lifelong career. After earning her degree in Interior Architecture, she quickly found her niche in the kitchen and bath industry.
She loves the challenges these rooms create.
The kitchen, being a place where family and friends gather, is also the central location of life's hustle and bustle. So many activities are brought together in this one room and April knows that attention to detail; proper spatial planning and material selection can create a space that will be enjoyed for many years.
Whereas the kitchen functions for many, bathrooms tend to serve as a place of solitude, tranquility and relaxation. Although typically smaller in size, bathrooms tend to have just as many functional elements as kitchens and require the same attention to detail.
With 12 years of experience guiding clients through the design process, April is happy to say that her passion endures.
Other interests include running, gardening, cooking and entertaining.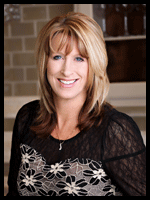 Kris Okray – Kris Okray attended the University of Eau Claire, WI and is a 1989 Marketing graduate. Throughout her schooling at UWEC, she worked building, staining and sanding cabinets for a small cabinetry business and in 1989 began designing using CAD. She has been designing custom cabinetry for kitchens, baths, closet units and furniture since that time. Kris owned "Kabinet Konnections" in Marshfield, WI from 1991-2000 and held a successful business there. In 2000, she sold her business to spend time with her young children and family. Kris began selling "Kitchen Koncepts" cabinetry in 1991 and continued to do business with them ever since.
Kris says the best thing about designing is that every project is unique and special and she enjoys seeing the end result of each project. She enjoys the challenge of staying in a customer's budget while still delivering something beautiful and amazing no matter the budget! Kris said it's amazing how design and product choices have evolved over the last 25 years and she appreciates that "Kitchen Koncepts" understands the value of product training and keeping up to speed with current designs and trends.
Outside of the job that she loves, Kris enjoys running and has participated in several races and marathons. She also enjoys cooking for her family and friends. In the summer, she enjoys boating and the outdoors, and in the winter months, she and her family love to snowmobile.