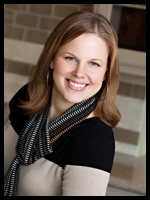 April Lamovec – April's interest in design began long before she attended the University of Wisconsin Stevens Point. But it was at that time she recognized her passion for design could evolve into a lifelong career. After earning her degree in Interior Architecture, she quickly found her niche in the kitchen and bath industry.
She loves the challenges these rooms create.
The kitchen, being a place where family and friends gather, is also the central location of life's hustle and bustle. So many activities are brought together in this one room and April knows that attention to detail; proper spatial planning and material selection can create a space that will be enjoyed for many years.
Whereas the kitchen functions for many, bathrooms tend to serve as a place of solitude, tranquility and relaxation. Although typically smaller in size, bathrooms tend to have just as many functional elements as kitchens and require the same attention to detail.
With 18 years of experience guiding clients through the design process, April is happy to say that her passion endures.
Other interests include running, gardening, cooking and entertaining.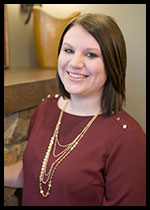 Amy Clark – Amy has had a lifelong passion for design that has become a reality with Interiors by Kitchen Koncepts. Amy graduated from Concordia University Wisconsin with a Bachelor's degree in athletic training. After pursuing a career as an Athletic Trainer, Amy realized her heart was set in Kitchen and Bath design. She joined Interiors by Kitchen Koncepts in October of 2017 and, with the support of the Kitchen Koncepts team, has enjoyed growing into a kitchen and bath designer.
Amy has tackled many of her own home renovations and has a very thorough understanding of the building and remodeling process. She was a customer of Interiors by Kitchen Koncepts before her employment and understands the joys and frustrations of building or remodeling. Amy strives to make the process as easy as possible for every customer.
Amy believes something beautiful can be made on any budget and strives to create an incredible design for every customer. She also pays close attention to functionality of every room and wishes to deliver a stunning design that is efficient for busy lives.
Outside of the job she loves, Amy enjoys gardening, crafting, being in the outdoors, and spending time with her friends and family.