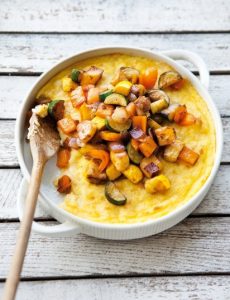 Polenta Perfection! 
See this recipe featured in our Fall/Winter 2014 Newsletter
Ingredients:
Olive oil for pans, plus 3 Tbs.
1 small eggplant, cut into ¾-inch pieces
2small zucchini, cut into ¾-inch pieces
2small yellow summer squash, cut into ¾-inch pieces
½ red onion, cut into 3/4-inch pieces
1 orange bell pepper, seeded and cut into ¾-inch pieces
Salt and freshly ground pepper, to taste
4 cups water
1 cup stone-ground polenta (corn meal)
2 Tbs. unsalted butter
1 cup grated Parmigiano-Reggiano cheese
2 cups shredded fontina cheese
Preheat an oven to 450°F. Oil a rimmed baking sheet and an 8-inch baking dish.
In a large bowl, combine the eggplant, zucchini, summer squash, red onion and bell pepper. Drizzle with the 3 Tbs. olive oil, season with salt and pepper, and toss to combine. Arrange the vegetables in a single layer on the prepared baking sheet. Roast, tossing once, until the vegetables are caramelized, 20 to 25 minutes. Set aside. Reduce the oven temperature to 350°F.
Meanwhile, in a heavy saucepan over medium heat, bring the water to a boil and salt the water. Stirring constantly, very slowly add the polenta. Cook, stirring constantly, until the polenta begins to thicken, about 5 minutes. Reduce the heat to low and cook, stirring frequently, until the polenta is soft, about 25 minutes. Add the butter, Parmigiano-Reggiano and fontina and stir until the cheeses melt. Pour the polenta into the prepared baking dish and smooth the top.
Transfer to the oven and bake just until the polenta begins to set, about 15 minutes. Remove from the oven and top evenly with the roasted vegetables. Continue to bake until the vegetables are heated through, about 15 minutes. Serve the polenta directly from the dish.
Serves 6.
Adapted from Williams-Sonoma One Pot of the Day, by Kate McMillan (Weldon Owen, 2012).