Years ago, there were two choices when it came to selecting a kitchen sink – cast iron or stainless. The industry has come a long way, and currently today, the options are even sometimes overwhelming. This information will guide you in your decision for a new sink.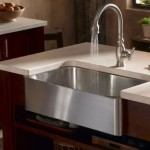 Stainless Steel
Stainless steel is one of the most popular options for a kitchen sink. If you are on a budget, stainless steel provides great options. There are two main things to look for in choosing a stainless steel sink: 1) the thickness or gauge of the steel; and 2) the sound deadening ability. Ask a professional to help you in selecting a quality stainless steel sink. Dent resistance and durability will be related to the gauge of steel used, but in general, stainless sinks can be prone to scratching and water spotting. Choose a model with a satin texture finish which provides additional protection from scratching. Stainless sinks offer many benefits including resistance to chipping, cracking or peeling. They are available in both undermount and drop-in models.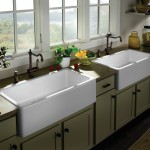 Cast Iron Sinks
Cast Iron sinks feature an iron base coated with an enamel finish. Although the latest cast iron sinks come in many color options, the main disadvantage is that they can chip or scratch, exposing the black surface underneath. When this surface is exposed, it can often lead to rusting. In addition, hot water does not hold its temperatures for very long due to cast iron's high degree of thermal conductivity. Cast iron is also one of the most difficult sinks to install because they are usually large and very heavy. Cast iron offers limited amount of undermount installation options. Undermount sinks are largely desired in today's kitchens. However, some still prefer cast iron because of the authenticity it lends to older homes. Cast iron is stain resistant and can vary greatly in price.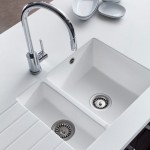 Polyester/Acrylic
Polyester/acrylic sinks are the lowest performing in terms of scratch and stain resistance, as they are made from soft materials that can cut and nick easily. They are shiny in appearance and come in an a variety of colors. They are also popular because they come in a variety of colors. They are an affordable option for those on a tight budget.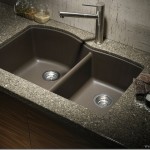 Quartz or Granite Composite
These sinks are a combination of 70 percent quartz/granite and 30 percent resin filler. They are much more durable than a polyester/acrylic sink. They are resistant to cuts, scuffs, dents, heat and cold, and aren't affected by harsh cleaning materials or liquids that can stain other sink materials. They also fight thermal conductivity, keeping your dishwater warm longer. They come in a variety of configurations and colors and start at affordable prices. They are a very popular option in today's kitchen designs.
We carry Blanco sinks and faucets, Karran sinks, Wilsonart sinks, Eclipse stainless steel sinks and faucets, Swanstone granite sinks, and onsite plumbing showroom with unlimited brands and variety.